ShipAny Order Shipping Management
Merchants can arrange order shipment by ShipAny logistics automation services on eshopland admin panel to simplify shipping procedures and enhance operational efficiency.
To use ShipAny shipping management services, you are required to register for a ShipAny account and connect your account to eshopland. For more details about ShipAny account registration and eshopland connection, please read ShipAny Logistics Automation.
When using ShipAny logistics automation service, you must input the weight and dimensions for each item to ensure accurate freight estimation.
1.    Order to be Shipped by ShipAny
Customer can choose one's preferred shipping method during checkout.
To make ShipAny as one of the shipping methods for customers' selection, merchants should add it to the shop on the admin panel in advance.
If merchants expect customers to use ShipAny as the only shipping method in order enjoy the logistics automation services, merchants can add ShipAny Logistics Automation as the only shipping method of the online shop.
Merchants can rename the name of the shipping method, for example, to change "ShipAny – Logistics Automation" to "Shop delivery services", "Delivery or Pick-up", etc.
2.    Customer's Selection of Shipment Service
When the customer selected to use ShipAny, one will be required to fill in Customer Information and Delivery Information.
When customer select the Shipping District, all available shipping services will be shown for selection.
Self-pick-up Services:
SF Express Business Station/Store
SF Express Service Partners
SF Lockers
Hong Kong Post
Convenient Store
Gas Station
ZTO Express
Alfred24
Delivery Services:
Business Address
Residential Address
If the customer chooses to pick-up the order, all available pick-up points will be shown for selection.
If the customer wants the order to be delivered to a business address or residential address, one will be required to fill in a correct shipping address.
3.    Instant Shipping Quotation
Customer pressing "Estimate Shipping Fee" can instantly get the shipping rate to be paid for the order.
The shipping rate will be estimated according to customer's choices of shipping service.
All available shipping options (if any) will be listed for customer's selection.
The chosen shipping fee will be auto added onto the order total for customer's payment when proceeding cart checkout.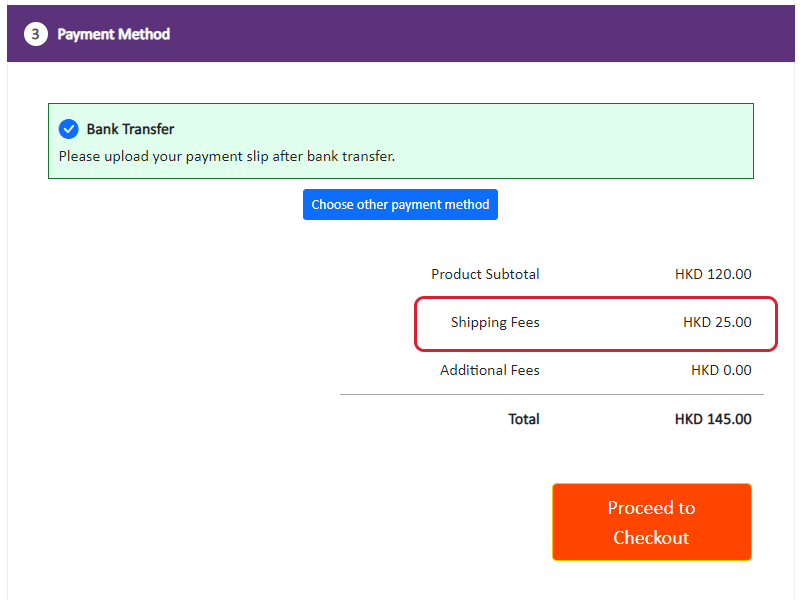 4.    Managing Shipment
Go to Admin Panel > Orders, click the Order Number.
On the Shipment sessions of the order page, click "Shipping Order" to enter the Shipping Order content page. All information on this page will be synchronized to ShipAny logistics gateway and used for printing the shipment waybill and packing slip of the order.
Sender Information
The system will synchronize ShipAny and auto fill in the sender information.
Merchants can edit the Sender Information
Recipient Information
Merchants can edit the Recipient Information as well as the Shipping Method.
Product Information
Merchants can edit the Product Total Price which will only be used for printing shipment waybill and packing slip.
Editing the shipment Product Total Price will not cause any change of the actual order record.
Package Information
The system will calculate automatically based on the weight and dimensions of the products.
Merchants can make adjustments here to ensure freight accurate freight estimation by the system.
Shipping Information
Set the order Shipping Type to "Ordinary" which to be shipped at room temperature, or "Air Conditioned / Chilled / Frozen" which required for cold chain logistics.
Select whether to "Drop-off" the order or require for "Parcel Collection".
Merchants can edit the settings to ensure getting an accurate shipping fee quotation.
5.    Submit Order to ShipAny
Select your option and press "Estimate Shipping Fee" to get the final quote of the order.
When you press "Place Order", you are submitting this order to ShipAny logistics gateway officially and all information of this shipment order will be synchronized to ShipAny.
Once the shipment order is placed, the Waybill Number will be auto generated which also supports status tracking.
Press "Request Pickup" to auto arrange parcel collection through the ShipAny logistics gateway, no additional procedures required.
If you need to cancel the order with ShipAny, simply press "Cancel Order".
6.    Auto Waybill Printing
Merchants can use the "Print Waybill" feature to print the generated waybill and its corresponding packing slip.
You May Also Like
Recommended Articles