Product Inventory Management
On eshopland ecommerce platform, you can view and adjust the product inventory or check the product low stock and out-of-stock status very conveniently.
1.    Product Inventory List.
Go to Admin Panel > Products > Inventory to view the Product Inventory List.
You can view the inventory record by Group.
The system will show quantity with different stock levels in different colors and with alert tags.
Green means the stock level is Normal.
Amber means Warning on the stock level.
Red means Insufficient Stock to fulfill recent orders or Out of Stock.
Blue means the Reserved Quantity for the recent orders.
2.    Stock Level of the Product Variants.
Click "Show Variants" to view the stock levels of the individual variants.
3.    Update Inventory.
You can update inventory for a product or a product variant on the Inventory List, such as to Add, Deduct or Set Stock Quantity, set to Unlimited Stock, or set to Accept Out-of-Stock Orders.
Whenever you update the stock on the Inventory List, you are required to select or enter an Update Reason for record, you can also add a remark for each update.
Apart from updating stock on the Inventory List, you can also enter the individual product content page to update the stock level of the products or variants. For more details, please read Product Details Settings.
All inventory update record details can be view at the Activity Logs on the Admin Panel.
4.    Export Inventory Reports.
Click Download 
on the top right corner of the Inventory List to download and export the inventory record in CSV file format.
You can choose to export the inventory record on the Current Page, Current Filter or All Products.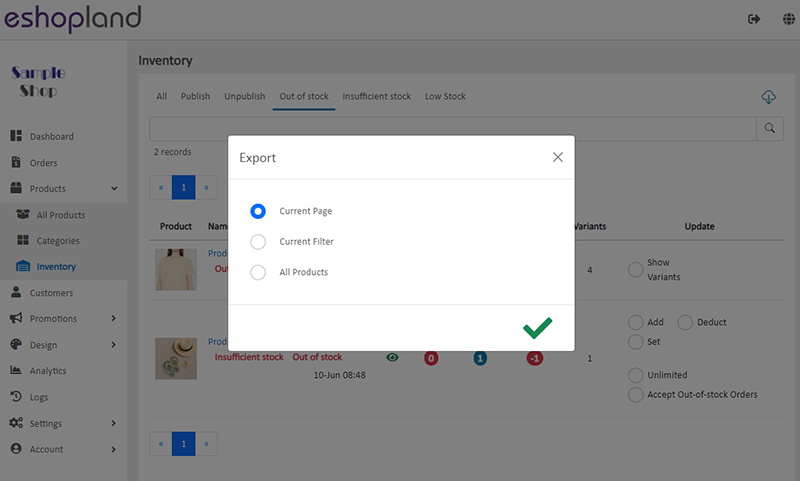 You May Also Like
Recommended Articles