Manual Payment Collection by FPS
eshopland system supports FPS (Fast Payment System) as your online shop's payment collection method. Your customers can use this manual payment method to settle the transactions.
1.    Login and go to the Admin Panel. Click Settings > Payment.
Click the Add
 to add a new Payment Method. Select FPS from the list.
2.    Set up Payment Method.
Display – the icon of the payment method
If you set up this payment method, the icon will be shown on the footer of your online shop webpage.
Settings – enter the beneficiary information
FPS Identifier (FPS ID)
FPS Registered Email
FPS Registered Phone Number
Additional Fees – additional charges to be paid by customers who choose to settle the payment by this method
Optional.
You can choose to charge on a fixed rate or charge by percentage.
Payment Deadline – the payment settlement deadline
Optional.
The Payment Deadline will be counted in hour.
If the customer failed to settle payment by the payment deadline, you can choose to cancel that order.
Payment Method Description – terms for settling the payment by this method
Optional.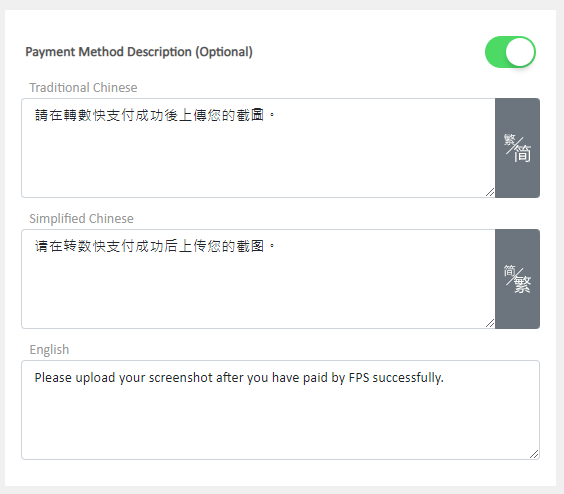 3.    Select to Cancel 
or Save 
the changes.
You May Also Like
Recommended Articles